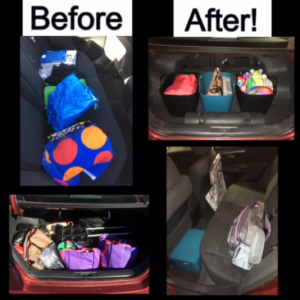 My car functions as a mobile storage unit because the Girl Scout in me likes to have everything I might need while out on the road for work and play. Unfortunately, that means the car is packed with stuff!
Recently it got to a point where I was embarrassed for anyone to look inside, so I knew it was time to make a change. Here are some tips for organizing your car that worked for me.
My three step process to organize a car is to collect, clean, and containerize.
Collect
Empty the glove compartment, middle console, front seat, back seat, seat pockets, and the trunk. Corral related things into categories such as snacks, supplies, coins, personal care, work related, hobby related, auto care/maintenance, children's items, and so on.
Decide what is important to keep inside the car and what could be stored inside the house. The remaining items should be donated, trashed, or returned to their rightful owners. Before putting anything away, use this opportunity to clean.
Clean
Take the car to be detailed or do it yourself. Start by digging under and in between the seats to remove any items that may have fallen. Then use a strong vacuum on the seats and the floor rugs. Wipe down the windows and the dashboard with a liquid cleaner and a rag. Throw away the trash.
Cleaning my car was the most difficult part of the job, but I was happy to retrieve all kinds of writing materials, spare change, and hair bands that had fallen under the seats. I also eliminated a fair amount of dust, dirt, crumbs and leaves from the floors.
Once my car was clean and the items I wanted remained, there were still several piles of things that did not look very nice (see "before" photo). It was finally time for step three.
Containerize
Try imagining what would be the ideal item to solve your organizational needs and see if it exists anywhere in stores or make it yourself. You can use bags, boxes or bins to hold items. Maybe add a cup to hold the loose change, a toiletry bag to hold personal care items, a gym bag to collect extra clothing, a briefcase to hold work papers, a shoe box for auto care items and manuals, and so on. As long as you know what you have and where to find it that amounts to being organized, but choosing the perfect container can also add a fun decorative touch to your space.
My Organizational Solutions
Shopping for the perfect organizing products was my favorite part! I went to three stores to check out the options and found that Target carries cargo bins from Rubbermaid that are specifically made for car organization. They are black plastic, come in three sizes, and have rubber grips on the bottom to keep them from sliding around. There are also several pocket organizers that hang on the back of seats to keep work items or children's things all in one place and some even have a fold down work surface ($13-$26).
I was not excited about the black colored items, so I looked for other things in the store to fit my needs. I stuck with plastic because it is durable, inexpensive, and easy to clean. For the inside of the car I bought a tub that sells as a kitty litter box, but made a perfect tray  for my extra clothing and shoes that I used to toss on the floor in the past ($9). I bought a diaper bag with fifteen pockets to hold all of my organizing tools ($28) and a decorative box to hold my files with a top that keeps them from fading in the sun ($8). I also swapped out all of the small re-usable shopping bags for one big grocery cart from Ikea ($20).
In the trunk, I used three large utility tubs to hold my workout gear and miscellaneous supplies ($8 each). Two small suitcases in the back hold the work bags that are only used for certain projects and a few makeup bags are in the console and the glove compartment to keep my personal care items together (see the "after" photo).
Just as with any other organizing project, the key to keeping things in check is regular maintenance. Cars can take a lot of wear and tear, especially for families with younger children, so it is important to clear them out regularly. If you make a habit of taking a few minutes each day to see what needs to go into the house and what can be donated or trashed, you  will avoid driving around with an embarrassing "mobile mess". Good luck collecting, cleaning, and containerizing!
*Knight Casas is a Miami-based Professional Organizer. Contact her at (305) 502-6391 or [email protected] for appointments.