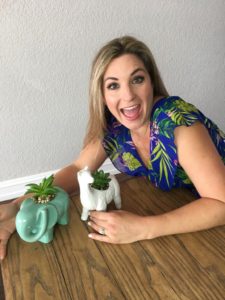 About the Company 
Neat with Knight is a Professional Organization company based in Miami, Fl. Owner, Tatiana Knight, is a life-long organizer who has been working in the field since 2007. The company assists clients in organizing homes, businesses, and personal storage spaces. Tatiana is a Board Certified Professional Organizer®, standing among the top ten percent of the industry. In addition, she is the only Certified Professional Organizer® in Miami-Dade county.
Meet the Owner
Tatiana Knight is a Miami native who spent much of her childhood tidying every space she could get her hands on. Anytime a family, friend, or one of her clubs needed organizing help, Tatiana was on hand to provide it!
She used to love watching the organizing television show "Clean Sweep" on TLC where celebrity organizer, Peter Walsh, helped clients across the U.S. She often dreamed of having job like that one day. After years of offering organizing assistance as a favor, her boyfriend (now husband), suggested that she get involved in the Professional Organizing industry.
In 2007, Tatiana was hired as an intern organizer for an established company in Boca Raton, Fl. The experience of working as a member of the team gave her the tools and the confidence to start working with her own clients. Now her dreams have become an everyday reality!
As the owner and lead organizer of Neat with Knight, Tatiana's mission is to help every person struggling to get organized. She strives to treat her clients the way she would treat a friend by exercising a great amount of patience and understanding. She is result-oriented and works diligently so that the client can see a visible improvement as quickly as possible.
Since 2007, Tatiana has worked with hundreds clients of all ages and backgrounds. She has organized with children, adults, and senior citizens. She has worked in offices of realtors, insurance companies, lawyers, salon owners, store owners and managed numerous sales. NwK clients often state that Tatiana is extremely professional, hardworking, non-judgmental, trustworthy, and fun to be around.
Career highlights Include
+ TV Appearances on A&E's "Hoarders" (2015) & Fusion's "Alicia Menendez Tonight Show" (2014)
+ Vice-President of the National Association of Professional Organizers, South Fl (2015-16)
+ Member of the elite group of Contained Home Organizers at The Container Store (2015-16)
+ Organizing columnist for the Community Newspaper's "Doral Tribune" & the Miami Springs "River Cities Gazette" (2013-2016)
Personal Life
Tatiana earned a Master's Degree in English Literature from Florida International University in 2012. She teaches Jazzercise in her free time and lives in Doral with her husband.